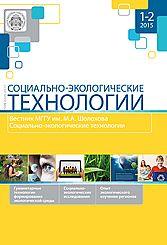 The journal "Environment and Human: Ecological Studies" ("Socialno-ecologicheskie Technologii") specializes in comprehensive and objective coverage of environmental issues: problems of interrelations between the organism and the environment, human and nature.
All articles submitted for publication are reviewed. The basis for the decision to publish is always the reliability and scientific significance of the presented material.
The remit of the journal:
Pressure of the global and local destructive factors on certain territories and the reaction (adaptation) of the species, populations, coens and ecosystems to it.
Regional aspects of nature resources use and reproduction.
Pressure of the environment pollution on the natural habitats, populations and individuals.
Environmental protection, reserve management and studies.
Human habitat, the consequences of the anthropogenic change of environment for the human body.
The journal accepts for publication scientific articles reflecting the main results of original research, as well as reviews, information on programs, meetings, activities of institutions, public organizations and individual specialists in Russia and abroad.
The journal is indexed in the National Russian Science Index (eLIBRARY.ru)
It is included in the list of the leading peer-reviewed scholarly journals of the Higher Attestation Commission of the Ministry of Science and Higher Education of the Russian Federation recommended to PhD candidates and those working for their habilitation who wish to publish the results of their research.
Scientific directions are:
Biological Sciences (Botany; Genetics; Ecology; Soil Science; Biological Resources; Physiology; Neurobiology);
Earth Sciences (Physical Geography and Biogeography, Soil Geography and Landscape Geochemistry; Geoecology)
The target audience of the journal: Russian and foreign specialists in the above mentioned branches of science; research fellows and experts; professors of universities; doctoral students, post-graduate students and students of Russian and foreign universities and research teams; school teachers.
Language of publications: Russian and English.
The journal has been published since 2011. Before 2015 the journal was issued as Vestnik Moskovskogo gosudarstvennogo gumanitarnogo universiteta im. M.A. Sholohova. Seriya: Socialʹno-ekologicheskie technologii.
ISSN 2500-2961
The journal is registered in the Press Committee of the Russian Federation. Mass media registration certificate: ПИ № ФС 77-67764 dated 17.11.2016.